Stone Slate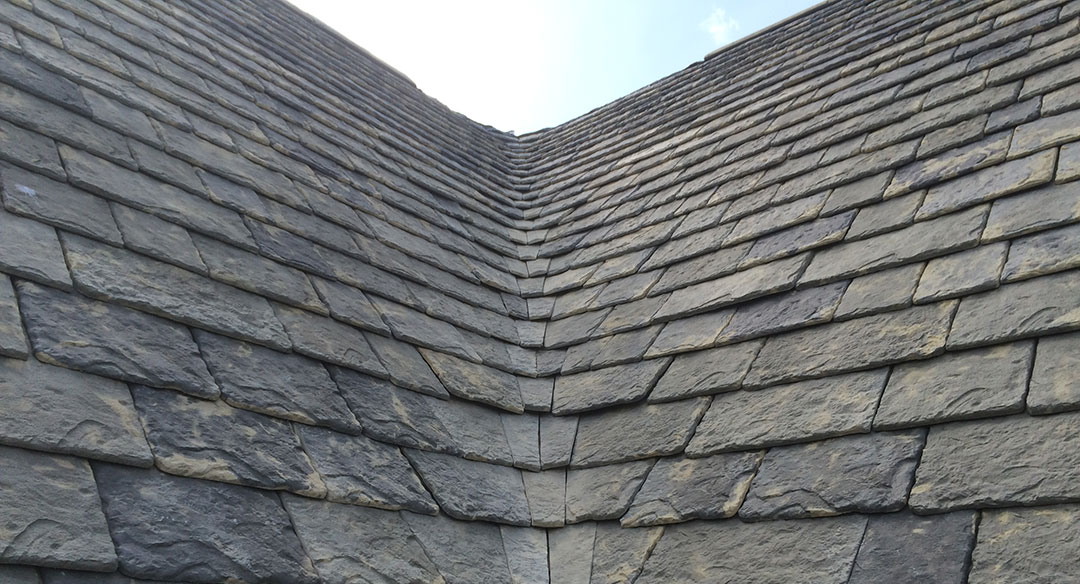 Slate is a stone that is naturally metamorphic which can get transformed from sedimentary shale through adding pressure and heat into the more impervious and harder material. It gets quarried at various locations all over the world and is shaped and split with the use of the hand. As a material for roofing slate's longevity and durability remains unsurpassed and there are producers of slate tiles that guarantee they can provide products that can last for a century. Aside from these, slate has natural beauty that remains unequaled as it seems to be immune to the effects of the elements and time.
Conveyance of Tradition and Prestige
Oftentimes, prestige homes and buildings on historic structures have roofs made of slate. Nowadays, people create roofs with slate because of its wonderful aesthetic appeal. Moreover, it can also be beneficial for the homeowners because it has a lifespan that is unparalleled. The value of a home may eventually increase and lead to a return over the roof including its life that is immeasurable. Aside from these, slate can outlast any other roofing material as it is capable of lasting for 150 to 200 years. Since slate is highly durable, it can allow homeowners to save money.
Synthetic Slate
Whenever you are searching for a roofing system that can last for a lifetime, add a unique touch of wonderful beauty to the home, and provide great durability make sure to take into consideration an investment in the natural slate roof.
For a long time, slate became highly acclaimed because of its longevity which is highly remarkable and beauty that is quite natural. It remains unmatched by any other material because of this. Since this is the case, it is essential to know the pros and cons of slate before you make any decision to purchase it.
Among slate's most attractive features is its wonderful beauty. Following this is its highly uncontested longevity and durability. Slate can definitely enhance the image of any architecture and it can be available in various textures and colors.
The options for color include gray, red, purple, black, and green. Aside from that, it includes tiles that is mixed with a variety of colors. Moreover, slate shingles have been shaped through the use of hands so it can meet various requirements and may get custom made in different sizes and thicknesses. Whatever its age, slate can maintain an appearance that is highly distinctive.
Advantages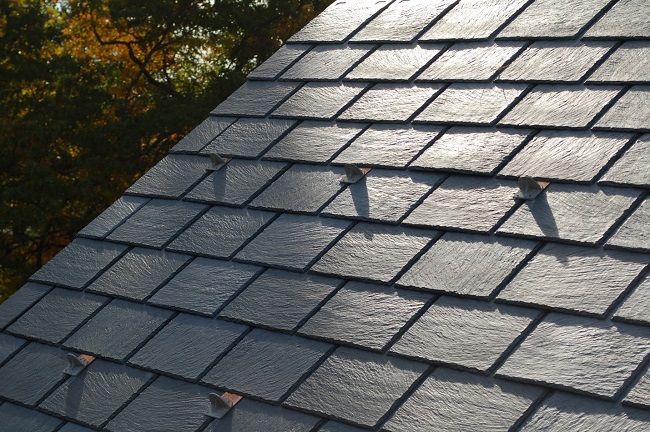 Minimal Maintenance and Durability
Since slate is a natural stone, it can be more durable compared to any material made by man. Slate is high density making it waterproof so it cannot absorb water. It is also non-combustible and can provide the home the needed protection in case there is a fire.
Aside from these, slate can be highly resistant to any weather condition or temperature fluctuations so it can be ideal in places that experience wind, snow, and heavy rain.
Another advantage of slate is that it does not get affected by mold and fungus. These are the properties that allow slate to become free of any maintenance and allow you to have a peaceful mind without the need to spend money on any expensive repairs and maintenance.
Long Lasting
When longevity is concerned only a few roofing materials are capable of competing with slate. Slate roofs can easily last for more than a century which can be more than double of what any other roofing material can be capable of offering.
Lots of manufacturers of slate tiles provide a warranty of a hundred years on their products. People who do not have any plans to sell their home can enjoy the well-desired benefit of the unbelievable longevity that slate has.
Increased Resale Value of the Home
The installation of a slate roof on any home can provide a significant increase on its resale price. Aside from this, the aesthetic appeal, permanence, and durability of slate will allow the home to become more attractive to any prospective buyer in case you eventually decide to have it sold.
Friendly to the Environment
The longevity of slate allows it to become a roofing choice that is friendly to the environment. Roofs provide waste as they get replaced every one to two decades. As of the moment, it accounts for approximately 5% of the construction waste that is filling up the shrinking space for landfills. Having a slate roof will not allow you to contribute to this issue.
Disadvantages
Issues in Replacement and Fragility
Even if slate can be a highly durable material, it may break whenever someone steps on it. Walking on slate is not recommended unless you are aware of what you're doing. Otherwise, you may and up damaging it.
When the slate tile gets broken, it can be very complicated to have it replaced as every slate runs by the lot and every lot can be different. Because of that, it may be almost impossible to look for replacement tiles that can match the existing ones perfectly.
Weight
Among slate's drawbacks for homeowners is that its roofing tiles have a heavy weight which is around 800 to 1,500 pounds for every 100 square feet.
Since not every home possess enough structural support that can take on the slate roof's weight, you will definitely need to have added reinforcement installed to take on its heavy weight.
Before you purchase any kind of slate roof, make sure that the home underwent the needed evaluation from the standpoint of the structure so you can become aware if it is capable of taking on the weight of the slate roof.
Complexities in Installation
Proper installation is the key to longevity for any slate roof. Whenever the slate roof does not get installed properly, it may easily lead to some of the significant problems of a roof. Since slate is a roofing system that is highly specialized, it is important to have it installed correctly through proper training and extensive experience.
However, the reality about this is that a lot of roofers do not have enough experience but many of them will immediately agree to have it installed on your slate roof. Avoid falling into this trap and make sure to hire a contractor that is well experienced and highly specialized in the installation of slate roofing. Always ask local references from the contractor in order to verify their work.
At Ebenezer Roofing we know the importance of feeling safe. We want to help you define the roof type or roofing service you need and to adapt it to your custom requirements while providing the quality service that characterizes us.
Let us help you. We have a large base of happily satisfied customers in Northern Virginia.
We are a roofing company committed to quality and service.
Please Click Here to contact us if you need more information on our services!